System Lens Adaptation Kits Finalized
After two years of design and testing, Mercury's system lens adaptation kits have now been finalized.  This marks a major milestone for the Mercury project, which aims to be a truly universal camera system.
Mercury can now accept the following medium format system lenses:
Mamiya 645
Pentax 645
Hasselblad V
Pentacon 6
Pentax 67
Each of these kits includes a dedicated Mercury lens mount adapter that threads into the front of a large format shutter.  It also includes a special lens board that accepts that shutter and correctly spaces that lens format, rendering its built-in focus scale accurate.  Each kit also includes a shutter spacer that offsets the shutter slightly from the lens board, and a set of screws to mount the kit to any Mercury front panel.
While prototypes over the past two years were only available for the Ilex 4 shutter, some lens systems can now utilize Copal 3 and Copal 3S shutters, greatly expanding the available options.  The following table sums up the possible combinations:
Lens System

Shutter

Front Spacer

Mamiya 645

Ilex 4

None

Pentax 645

Ilex 4

None

Copal 3

None

Copal 3S

None

Hasselblad V

Ilex 4

10

Copal 3

None

Copal 3S

None

Pentacon 6

Ilex 4

none

Copal 3

None

Pentax 67

Ilex 4

10

Copal 3

None

Copal 3S

10
Configs that require a front spacer have additional flexibility, as that spacer can be removed for rear shifted backs and back adapters (up to RS-10; further than this requires the Mercury S Front Panel, which achieves another 10).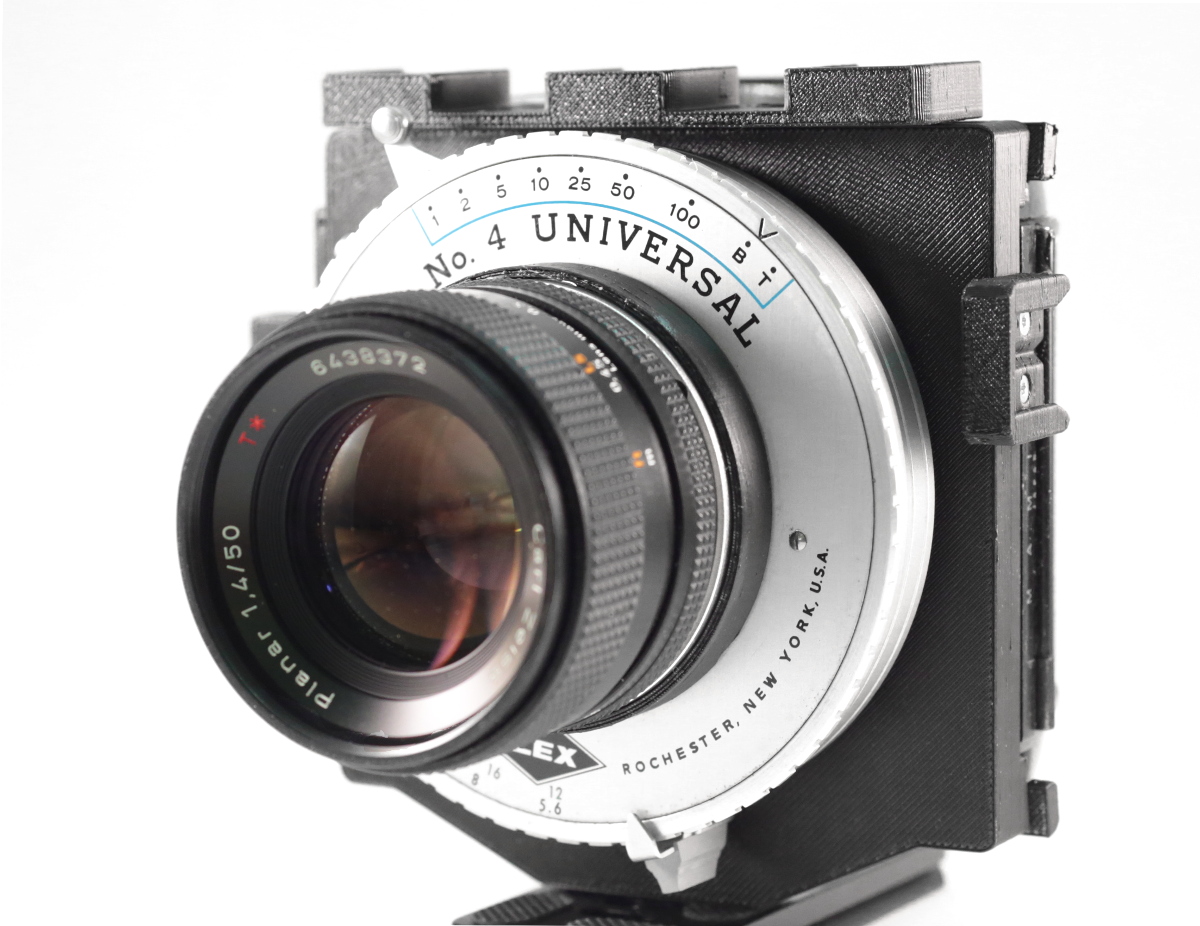 And now, we can finally announce a solution for 135 (35mm) SLR lenses as well.  While these lenses have flange distances too short to utilize the standard Mercury front mount, special camera bodies have been developed to allow them to work with the Mercury ecosystem.  The vast majority of 135 system lenses will only work with an Ilex 4 shutter.  Unlike the universal medium format system lens kits, 135 Mercury configs require two components that are sold separately.  135 Integrated Panels accept a large format shutter via direct threads (the shutter screws into the front of the panel).  Their rear side consists of a built-in (non-removable) back adapter.  Graflok 23 and Mamiya 645 AFD versions exist.  The second component of a 135 system lens config is the lens adapter.  This accepts a particular lens system, and itself threads into the large format shutter mounted on the Mercury body.  The following adapters are available:
Canon EF (our default adapter, as it can mount many other lens systems; see below)
Canon FD
Minolta MD
Konica (Hexanon) [still in development]
Leica R
All but the Leica R use the "Type 1" body, which accepts and Ilex 4 shutter and comes in either Graflok 23 or Mamiya AFD back versions.  The Leica R requires a Type 2 body, which accepts a Copal 3 shutter and comes only in a Graflok 23 back.
Many other lens systems can be easily adapted to Canon EF via readily available third party adapters.  These include, but are not limited to:
Nikon F
Olympus OM/MD
Contax C/Y
M42
Pentax K
Exakta
Prices
(note: Kits do not include required large format shutter)
Mamiya 645 kit (to Ilex 4):  90
Pentax 645 kit (to Ilex 4, Copal 3, or Copal 3S):  90
Hasselblad V kit (for Ilex 4, Copal 3, or Copal 3S):  110
Pentacon 6 kit (for Ilex 4 or Copal 3):  100
Pentax 67 kit (for Ilex 4, Copal 3, or Copal 3S):  100
135 Integrated Panel, Ilex 4 Shutter to Graflok 23 Back:  50
135 Integrated Panel, Ilex 4 Shutter to Mamiya 645 Back: 70
135 Integrated Panel, Copal 3 Shutter to Graflok 23 Back:  TBD
Canon EF Lens Mount for Ilex 4: 50
Minolta MD Lens Mount for Ilex 4: 50
Canon FD Lens Mount for Ilex 4: 60
Konica Lens Mount for Ilex 4: TBD
Leica R Lens Mount for Copal 3: TBD
System Lens Notes:
All system lens kits require a large format shutter.  The Ilex 4 is the most versatile: it works for every medium format and 135 lens except for Leica R (and even that can be achieved with a Canon EF mount + Lecia R to Canon EF adapter).  However, Ilex 4 shutters, while typically less expensive than Copal 3, are nonetheless far less common.  Some lenses can utilize a Copal 3S shutter.  This shutter is very similar to a Copal 3, but has slightly different measurements.  We designed the Copal 3S configs to allow Mercury users to make use of a cheaper shutter: the 3S is  about 2/3 the price of a Copal 3.  However, it can be difficult to identity a 3S.  Sometimes they are labeled as such, but most of the time they are simply labeled "Copal."  If it looks like a Copal 3 and has similar dimensions, but only says "Copal," it is a 3S.  They are almost never labeled as such by sellers on ebay.  Common lenses that come in the Copal 3S include the Fujinon 250mm SF (Soft Focus), the Congo 180mm f/4.5, and various Kowas and Computars.
Medium format system lenses should not be expected to produce images larger than their nominal format (i.e., 645 for Mamiya or Pentax 645 lenses, 6×6 for Hasselblad V, etc.).  Though many lenses have larger image circles, the aperture of Ilex 4 and Copal 3 shutters restricts the light path to some extent.  The nominal format rule of thumb isn't exact, but it is a good guide.  135 lenses, however, being smaller, will typically produce larger image circles than their nominal format, even in these same shutters.  A number of 135 lenses we've tested can produce a 4x4cm image, and some even approach (but none reach) 645.
Some of these system lenses have built-in shutters.  Mercury Works makes an Ilex 4 Spacer that can act as a replacement for the Ilex 4 shutter.  Because it has a larger aperture than an actual Ilex 4, it will recover more of the lens' full image circle.  Further, we also have an RS-20 version of this spacer, which allows these lenses to be used in RS-20 configs (and in the case of the P67, the standard FS10 can be removed to achieve RS-30!).  Lenses that can be used with this spacer system include 55mm, 70mm, 80mm, and 150mm L/S versions of Mamiya 645 lenses and the Pentax 67 90mm f/2.8 LS lens.
All of these system lens adapters require metal parts.  We have to cannibalize parts from existing lens adapters.  This adds a significant amount to our cost.  In addition, some adapters require us to do drilling and tapping, or even extensive machining, as in the case of the Hasselblad V adapter.  Our prices reflect this.
Mamiya RB67 lenses and Mamiya Press lenses in their helical mounts are special types of lenses that act as hybrids between view lenses and system lenses.  Both are fully compatible with Mercury, but have separate solutions and thus aren't listed here.