Introduction
Graflok 45 has been the de-facto large format accessory mounting standard internationally for the past seventy years.  Like its medium format cousin, the Graflok 45 system allows an accessory back to be mounted to the back of a large format camera and latched into place via two sliders.  It is used by many camera makers.  The Mercury continues this tradition by implementing the Graflok 45 standard in a plastic variant, as a removable back adapter that can be mounted to a standard Mercury Front Panel, enabling nearly any Mercury camera to shoot the 4×5″ format.  What follows is a general guide to the sorts of backs that are designed to be mounted to Graflok 45 cameras.  Due to the ubiquity and longevity of this mounting format, and variety of uses to which it has been put, this is not a comprehensive list of all backs in existence, but rather a representative list of what to look for.
4×5 Sheet Film Holder
This is not actually a Graflok 45 back, but it is has the same form factor and seats in the same groove, and is further the most common device to be used on Graflok 45 cameras.  Every Graflok 45 camera ever produced can accept sheet film holders in some manner.  Most cameras include a spring back system that utilizes heavy springs to hold a Sheet Film Holder in place when one is inserted.  Small, lightweight cameras such as the Travelwide and Mercury do not contain spring backs, but can use rubber bands or other means to hold sheet film holders (which are quite light) in place.  Mercury has an optional spacer that can be inserted to convert its Graflok sliders to latch to film holders rather than Graflok accessories.  Sheet film holders can each hold two sheets of nominally 4×5 film (actually very slightly smaller than those dimensions), one on each side.  The photographer must remove the holder from the camera, flip it over, and re-insert it to explose the second sheet.  Each side contains a darkslide to protect the film until it is ready to be exposed.  Sheet film holders must be loaded by hand in complete darkness (either a changing bag or darkroom).  They are inexpensive and can accept any 4×5 sheet film, or even roll film formats that have been cut down to fit inside.  This remains the cheapest way to get into large format shooting.
Wooden holders were made by Kodak, Baco, Ansco, Toyo, and Graflex, among others.  Later plastic holders were made by Lisco, Fidelity, Riteway, and Toyo.  Lisco and Fidelity are actually the same company.  Riteway was Graflex's brand.  In practice, some photographers prefer wooden holders (purported to be flatter in some tests, if not subjected to moisture over time), and some prefer plastic holders (newer, lighter, with sometimes easier loading mechanisms, but more prone to static attraction of dust).  Fidelity and Toyo still manufacture and sell film holders.
4×5 Quickload/Readyload Holders
Fuji (Quickload) and Kodak (Readyload) both produced special film holders that would accept individual sheets of film with their own cardboard sleeves.  These had the advantage of using true Graflok backs and not requiring hand loading.  To shoot a shot, you simply slip one of the light-tight sleeves into the holder, withdraw its darkslide, and expose the frame.  It can then be removed, still in its protective sleeve.  The disadvantage of this system was simply cost: not only did you have to purchase the special Graflok back, but also the expensive film packs.  Both Kodak and Fuji discontinued these systems in the mid-2000s.  Expired film can still be purchased, but is quite expensive.  New55 still produces black and white negative "ready loaded" film, but it is made to work in Polaroid 545 holders (see below) rather than QuickLoad or ReadyLoad backs.
4×5 Pack Film Adapter
Graflex pioneered a 4×5 pack film system in the 1940s that was quite popular with press photographers.  Instead of withdrawing and flipping sheet film holders, a single Graflok 45 pack film adapter could accept a pack of film containing 16 sheets of film, all taped together and attached to paper tabs.  The tabs stick out the side of the pack adapter.  The pack adapter itself has a single darkslide that is used normally when you wish to expose a frame.  After each exposure, you pull the frame's tab to cycle it to the back of the pack and move the next sheet into place.  The major disadvantages of this format was that the film was much thinner than large format sheet film and had to bend around severe corners, making it much less flat than sheet film.  You typically had to finish a whole pack of film before you could develop your shots (although it is possible, if you are careful, to open the pack adapter in the dark and "rob" some frames from the back of the pack).
These are the best possible backs for fast, high-volume shooting, but were discontinued after that style of shooting was no longer practiced by large format photographers!  However, unlike the much later Quickload/Readyload systems, plenty of (very) expired film packs float around ebay for very reasonable prices.  The adapters themselves are also plentiful and cheap, and can be re-purposed to hold items other than packfilm, such as glass or tin plates.
Grafmatic
Graflex, the leading company for large format press photography, also invented an ingenious device that could hold six regular sheets of film, each in a separate "septum."  Spring loaded in this metal back, they were cycled through it via complex system that operated much like a darkslide.  The photographer simply pulled out the large handle on the right side to expose a frame.  To cycle to the next shot, close the handle, grasp the catch with your thumb, and open it again.  Then close the handle.  The next frame is now loaded and ready to shoot, but behind the "darkslide."  Repeat for each frame.  Once you get the hang of it, you can cycle through frame very quickly (faster than roll film).  This is the last option for rapid 4×5 shooting!
Here are some of the advantages of the Grafmatic over regular sheet film holders:
They are much faster to operate, as you don't have to flip over or replace a film holder for every successive shot. This was a big deal back in the press days.  Only pack film was faster.
They make it easier to keep track of your exposures. No need to figure out which holders have been exposed, which have been unloaded, etc.  Here, you shoot until all six sheets are exposed, then unload it all at once.
It is more compact than multiple film holders. It's just a bit bulkier than a single film holder, but it holds three times as many shots!
It doesn't require a spring-loaded focus panel. The Grafmatic is clamped onto the camera via the the Graflok system.  Thus it works without modification with the Mercury camera.  (Note that the Grafmatic could also be used with a spring back on old Graflex cameras, without the need of a Graflok back.  This makes it extremely versatile.)
The only downside to the Grafmatic over a sheet film holder is that you can't shoot just one or two sheets and develop them right away.  You could open up the Grafmatic in the dark and "rob" it of an exposed shot to develop, but this is not recommended, as you would have to find the exact sheet you want and leave the others in the proper order.  Then the frame counter would no longer accurately tell you when all of your sheets are exposed, either.  The other downside is that these are more difficult to load than sheet film holders, which are a real cinch.
These were made in 2×3 and 4×5 format sizes.  The correct sized Grafmatic is labeled "45" on the front (though some very late models, with red lettering on the front, are only labeled with the exact size on the underside, in stamped black letters that are hard to read).
Online instructions:  https://www.graflex.org/speed-graphic/grafmatic/
These are highly recommended for the Mercury camera, provided that you take the time to learn and practice the loading technique to avoid bending the delicate septums (the little slides that hold the film).  The Grafmatic is a true Graflok back (unlike standard sheet film holders), holds six frames in a single compact back, and allows for rapid cycling between them.  Best of all, it works with any 4×5 sheet film, and is thus as useful today as when it was invented in the 1940s.
Graflex actually had an earlier version of this concept called the "Bag Mag."  This was a much larger device that lacked the complex cycling mechanism, containing a leather bag on the right side.  A lever allowed each septum to be ejected into the bag.  The photographer would then need to maneuver it back into the holder at the back of the stack!  These are to be avoided unless you really enjoy a challenge.  The advantage is that they could hold twice as many sheets of film as the later Grafmatic.  But most photographers never looked back…
Graphic Roll Film Backs
Graflex manufactured several roll film backs for the Graflok 45 standard.  The most common are the Graphic 22 and 23 (earlier knob wind backs) and the RH-8, RH-10, and RH-20 (later lever wind backs).  Graflex also released a later 70mm back, the RH-50 (yes, it can shoot 50 shots per roll!).
The earlier, knob-wind backs typically lack pin rollers, which are a feature of the "shell" portion of the back and hold the film flatter.  This doesn't matter at smaller apertures (larger f-stop numbers), but can make a difference when shooting fast lenses wide open.  For that reason, lever-wind backs fetch a higher price on the used market.  All of these back do a good job shooting roll film.
Here are the basic characteristics of these models:
| | | | | |
| --- | --- | --- | --- | --- |
| Back | Film Type | Frame Size | Frames Per Roll | Winder Type |
| Graphic 22 | 120 | 6×6 | 12 | knob |
| Graphic 23 | 120 | 6×9 | 8 | knob |
| RH-12 | 120 | 6×6 | 12 | lever |
| RH-10 | 120 | 6×7 | 10 | lever |
| RH-8 | 120 | 6×9 | 8 | lever |
| RH-20 | 220 | 6×7 | 20 | lever |
| RH-50 | 70mm | 6×7 | 50 | lever |
Horseman Roll Film Backs
Horseman also produced a series of roll film backs for the Graflok 45 standard.  In general, these backs are of better quality than the earlier Graflex backs, with more sophisticated film counters, more robust/durable designs, and more precise mechanisms, leading to flatter film planes.  They are also significantly more expensive.  Horseman never released a 6×6 or 70mm back.  They did, however, release a 6×12 back that is exquisite.  This is the best roll film back you can purchase for the 4×5 format, as it makes use of far more of the available optical "real estate" than any of the standard backs by Graflex or Horseman, which are simply adapted from their medium format (Graflok 23) offerings.  Still, Horseman's 8 EXP back is also very highly recommended.
| | | | |
| --- | --- | --- | --- |
| Back | Film Type | Frame Size | Frames Per Roll |
| 8 EXP | 120 | 6×9 | 8 |
| 10 EXP | 120 | 6×7 | 10 |
| 20 EXP | 220 | 6×7 | 20 |
| 6 EXP | 120 | 6×12 | 6 |
Linhof Roll Film Backs
Linhof also manufactured a couple of premium roll film backs for Graflok 45.  This was unique, as their medium format cameras utilized a proprietary back standard (not Graflok 23), so their medium format roll film backs are not compatible with the Graflok standard, but their large format backs are.  Nonetheless, these backs are far more rare and tend to be fairly costly.  They are also very heavy and use an awkward loading system.  In general, not recommended.
| | | | |
| --- | --- | --- | --- |
| Back | Film Type | Frame Size | Frames Per Roll |
| Super Rollex 6×7 | 120 | 6×7 | 10 |
| Super Rollex 6×9 | 120 | 6×9 | 8 |
| Cine Rollex | 70mm | 6×7 | 50 |
DAYI 6×12, Multi-Format Roll Film Back
This is the cheapest available 6×12 back for Graflok 45, made by a Chinese company and sold internationally on Ebay.  It's great advantage, other than price, is that it can shift formats, even mid-roll.  You can adjust it all the way down to a 6 x 4.5 frame size.  I haven't used one.  Some complain about film flatness, and mechanical problems after switching formats.  The best advice would be to stick with one format, and that should probably be the back's strength: 6×12.
Beattie Transit 70mm Back

The Beattie Transit was a 70mm back that was quite heavy and cumbersome.  It was unique, however, in that it actually made use of the larger 70mm film to expose a taller and wider frame than the 6×7 format utilized by Graflex and Linhof's 70mm backs.  The frame size is approximately 6.5 x 9, making it the largest exposure available on 70mm film.
The downside to the Transit is that it does not accept standard 70mm cassettes like the other brands.  Instead, it requires proprietary spools, and is more complex to load (and must be loaded/unloaded in complete darkness).
Polaroid 545 / 545i / 545 Pro
This is Polaroid's revolutionary single-shot instant film holder.  It operates somewhat like the Quickload/Readyload system described above, but contains rollers to develop instant film.  Each sheet of instant film is protected by a light-tight sleeve, with an integrated darkslide.  To use the holder, flip the large lever to "L" (for Load) and slide the film sleeve in until it catches on the internal catch.  Then pull the sleeve's internal darkslide to expose the film to the camera's light path.  After you have taken your shot, close the darkslide, flip the holder's lever to "P" (for Process), and pull the sleeve out of the holder.  It will now pass through the rollers, developing the film.  This is peel-apart film, so once you've waited the appointed time, remove the film from the sleeve and peel the negative and positive sides apart to reveal your image!  Polaroid made a range of films for this format, but all were discontinued in 2009.  The most legendary was Type 55, which produced a usable negative as well as a positive image.
Luckily, New55 has brought back this format, with regular production of New55 black and white negative/positive film, as well as a pilot project to potentially produced color film in the future.  This film can be purchased today at www.new55.net and shot with this holder.  Highly recommended.
Polaroid's 545i was a later edition of this back that was made out of plastic instead of metal.  It is slightly less durable, but much lighter, and thus recommended.  The 545 Pro was even more advanced, incorporating an electronic timer to help you know how long to process each sheet, as well as an integrated thermometer (as temperature affects development time).  Definitely overkill!
Polaroid 550 / Fuji PA-45
Both Polaroid and Fuji made 4×5 instant pack film holders.  Like Graflex's old Pack Film Adapter, these backs accepted packs of film, each frame of which could be cycled through by pulling paper tabs that stuck out the side of the back.  In this case, however, the film was peel-apart instant film.  The back contains a set of internal rollers, and when you pull the tab, you actually pull the shot out of the back and through the rollers, initiating the development process.  Both Polaroid and Fuji made film packs and film adapters, and the two were interchangeable.  Polaroid shuttered its operations in 2009.  Fuji discontinued their last 4×5 sized packfilm (FP-100C45) in 2014.  It is still available used for very high prices online.
Polaroid 405 / Fuji PA-145
Polaroid and Fuji both made a smaller instant packfilm size that was far more popular than 4×5.  It was the standard for passport photos as well as all Polaroid 100 series cameras.  It is approximately 3×4" in size.  The Polaroid 405 and Fuji PA-145 were Graflok 45 holders for this type of packfilm.  Fuji continued to make the PA-145 and FP-100C film for it until 2016.  The film, as well as the 2014 discontinued FP0300B black and white film in this format, are still readily available used online.
This was the most popular instant film used in large format, and was commonly used to check exposure before exposing on sheet film.  When shot on a 4×5 camera, these backs produce a strangely off-center image.  A proper mask must be made for your ground glass.
Fuji's PA-145 is still available as new old stock, given its recently discontinued status.  There are various exploratory efforts underway to try to reintroduce 100 series pack film.  We can only hope that one day it will happen!
Digital Back Adapters
Generic adapters that allow you to mount a medium format digital back on a Graflok 45 camera are readily available on Ebay.  Of course, mounting a 645 sensor on a 4×5 camera is a bit ridiculous!  If you are going to mount a digital back on a large format camera, I'd recommend that you make use of that large back area with a sliding adapter…
Sliding Digital Back Adapters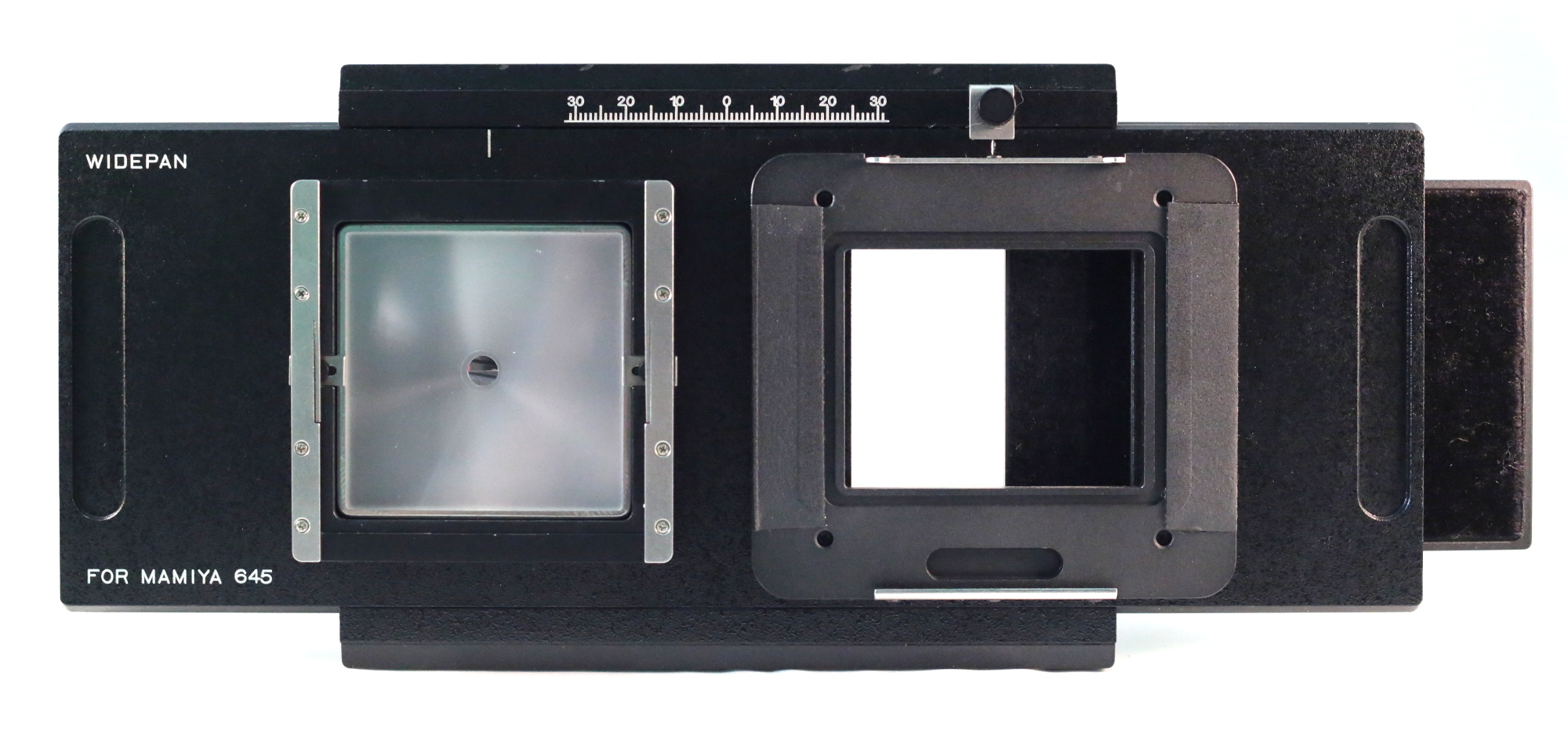 These backs mount a medium format digital back (generally for Mamiya 645, Hasselblad V, Contax 645, or Hasselblad H) on a sliding adapter that can be positioned anywhere along a horizontal axis.  This allows you to take stitched panoramas simply by taking an exposure at each of several shifted positions.  This allows you to transcend the limitations of sensor size somewhat, producing an image as wide as 6×9 (and almost as tall if you can mount your digital back in portrait orientation).  This will only work with non-moving subjects, but can produce stunning results with patience.
The lower tier of these backs do not include a ground glass, so you will need some other way of focusing and composing (these backs shift your focal plan back significantly, so you will not be able to use a standard ground glass to focus).  The upper tier adds a 6×6 ground glass on the side.  To use it, position it at the digital back's intended position, focus and/or compose, and then shift the back over so the sensor is in the same position as the ground glass was.
Mercury Instax Wide Converted Back
Mercury Works makes a conversion kit for Lomography's Belair Instant Film Back that adapts it to Graflok 45.  This is an Instax Wide back that includes its own crank-driven developing system.  Two versions of the kit are available: a simpler kit that lacks a darkslide system, and a more complex one that includes it.  Both shift the focus plane back 20mm.  Unfortunately, the Belair Instant Back has been discontinued, and it is difficult to find it today.
Mercury Ground Glass Adapter
Traditional 4×5 cameras, even when they included Graflok 45 mounts, always included a spring back that incorporated a ground glass panel.  For that reason, no company has released a Graflok ground glass back until Mercury Works did (the Mercury camera system has a Graflok mount but no spring back).  The Mercury 45 Ground Glass Back can, of course, be used on any Graflok 45 capable camera.
Check back for updates, and see here for our complete Graflok 23 back guide!