The following is a list of essential accessories for Mercury. Most are 3rd party, but a couple are made by Mercury Works. These aren't required, but for reasons described under each item, they are highly recommended to get the most out of your camera system.
1. Auxiliary Range Finder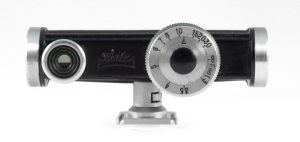 For most Mercury users, this will be the most important accessory you purchase.
A range finder is a relatively simple device that lets light into two small windows (located apart from one another), then uses mirrors to reflect light from both windows onto a single viewfinder. A dial causes one of the mirrors to converge upon the other variably. The photographer turns the dial until the two images (one from each window) converge perfectly. The device has thereby measured the difference between what each window sees, and thus calculated the distance to the target based upon its pre-calibrated settings. This is a fast and easy way to measure focal distance when you don't have a reflex viewing system to judge directly.
A rangefinder is not required for Mercury use, but it is one of the best ways to focus, especially when shooting hand held, and thus comes with the highest possible recommendation. An alternate focus method is zone focusing (whereby the photographer uses the Mercury depth of field guide to choose a working focus range, sets the aperture accordingly, and then shoots subjects within that range without having to worry about focus. This allows for easy and fast street photography, as long as you can adequately judge distance (at distances near the infinity point, this is especially easy).
Finally, photographers wanting absolute precision over shorter distances can use a laser distance finder as an alternative or supplement to a range finder. These are inexpensive on Ebay, and can be easily mounted to a Mercury cold shoe. Lasers, however, require batteries, and are bulkier than a typical rangefinder.
Cameras that lacked a reflex viewing system and any built-in rangefinder used to be quite common, and thus many auxiliary rangefinders used to flood the market from the 1930s through the 1970s. Japanese, Russian, American, and German companies all manufactured accessory rangefinders. Most mounted on a standard cold shoe; some had proprietary mounts, and some had no mount as all, as they were designed to be used hand held, detached from the camera. Some common models are pictured below, including the BLIK by Lomo, Widor, Walz, Hugo Meyer, Watameter, and Ideal. Others are listed in the table below.
These all come highly recommended. The Hugo Meyers use a strange mounting system that almost works on a standard cold shoe, but you're better off using the Mercury replacement foot for these. The Walz has a removable metal foot that is sometimes lost. Mercury has a plastic replacement. The Ideal has no foot, but the Mercury generic cold shoe foot with lip can be glued to it for on-camera use. The Widor, Watameter, and BLIK all come ready to mount and work well. There are many other brands out there as well. Most are fine, unless they are broken. Another potential problem is that the coloring can wear off of one of the windows. If both windows are clear, there is no way to see the overlapping images, and thus the rangefinder can't be used properly. Sometimes this can be repaired by adding a small piece of colored "party" gel over one of the windows.
These can also lose their alignment, and it is thus recommended that you calibrate them before use. Most have an accessible calibration screw that shifts the distance scale. You should zero it at infinity.
When shopping on Ebay, searching for "range finder" will yield better results than "rangefinder," as the latter describes a camera type as well. Try these searches:
[brand] range finder
[brand] rangefinder
vintage range finder
shoe range finder
pocket range finder
To help you select a specific model, our complete range finder guide can be found here.
Alternatives to a range finder:
When shooting on a tripod, you can and should use a ground glass back (see #2 below).  However, even for handheld shooting, there are alternatives to accessory range finders.  When shooting quick and dirty, you can zone focus.  This means setting a depth of field range using the Mercury depth of field scale for your focal length, and setting the focal point and f-stop to achieve the range you desire.  Then just shoot any subject you think is within that range.  A variation on this is to select the hyperfocal distance for a given f-stop.  You then know that anything from this distance to infinity is in focus.  This covers a lot of landscape work.
Another alternative to a range finder is a laser distance finder.  These can be found cheaply on ebay.  You need one that covers a usable close range (not the variety made for golfing).  Mercury Works has a simple cold shoe adapter for the Chinese-made CP-40P.  Laser distance finders are highly accurate (more so than range finders at closer distances) but have a far more limited range, especially in daylight.
It is also possible to turn your body into a range finder using this principle: https://tomchuk.com/misc/rf/
2. Ground Glass Back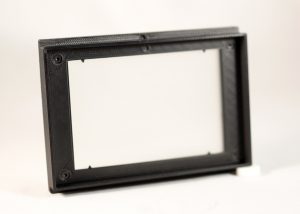 The most accurate focusing method for the Mercury is to use a ground glass back. This is a must if you wish to test lenses that don't have official Mercury lens kits, are shooting at very fast apertures, need critical focus for whatever other reason, or wish to calibrate your focus scales for maximum accuracy. Ground glass comes highly recommended. It can only be used, however, when shooting on a tripod, as the ground glass back must be mounted for focusing and then removed and replaced with a film or digital back to expose your shot. Shooting with ground glass is a slow and methodical process, which is also why it is so satisfying (also: seeing that three dimensional image pop on your ground glass screen is a joy that only photographers know).
Unfortunately, only Horseman ever made a Graflok 23 ground glass back, and this is a rare and expensive item (as one half of a two-part accessory: ground glass and reflex viewing hood that snaps to it). Most Graflok 23 cameras had a ground glass spring back attached that could be removed when using Graflok accessories, but these mounted along with the Graflok 23, not utilizing it. If you wish, you can modify one of these ground glass backs to work with Graflok 23 my removing its metal spring arms and then cutting Graflok grooves into its edges so the Graflok blades on the Mercury can hold the back in place. This modification is not for the faint of heart, but the results can be very high quality, and these ground glass backs usually include a fold-out viewing hood.
No other company has ever manufactured a Graflok 45 ground glass back.  Again, you can modify a vintage spring back by removing the arms and springs and cutting Graflok grooves into the top and bottom.
You can also fashion your own ground glass back for 23 or 45 by modifying a Graflex Film Pack adapter, cutting an oversized piece of ground glass, adhering it to the inside, and creating a mask to mask off the proper area.
You can also purchase a Mercury ground glass back. We designed a simple Graflok 23 ground glass back as a basic item.  By default it comes with a full 6×9 mask with additional tabs to indicate 6×7.  However, upon request we can replace this with a 6×8, 6×7, or 6×6 standard mask.
Mercury Works' standard 4×5 ground glass is slightly smaller than the full 4×5 frame, but includes a white border that shows you the exact size of the missing area.  In practice it works very well–it's extremely light and compact.  We also make a 4×5 "Graflex" ground glass frame.  This contains no glass, but is designed to accept any piece of ground glass that has been cut to work with a Graflex 4×5 camera.  With a third party source of glass (or optical plastic), you can use this to build your own full-size ground glass back.
Various masks for our 6×9 and 4×5 ground glass backs can be found here.
3. Shutter Release Cable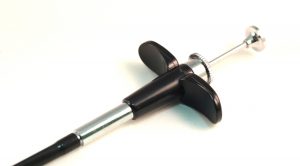 This is a very inexpensive, readily available item that can greatly enhance the functioning of your Mercury. You can use it for tripod shooting to eliminate camera shake on longer exposures. The Mercury is also designed so that you can thread a standard shutter release through the handle and attach it to your lens on the bottom. The release thereby becomes a trigger button for fast and easy handheld shooting. These are available used everywhere, but are also manufactured new by a Chinese company for an incredibly low price. Purchase the standard 16" version from China on Ebay.
If you are using a vintage shutter release with a very small head that wants to fall through the hole in the Mercury handle, we have a simple adapter that can hold it there in place.
4. Camera Strap
This is a very basic item, also available online for very cheap. The Mercury is designed to accept most camera straps: both the type with nylon straps that thread back over themselves (the most common) and split rings, to which you can attach a quick-release style strap if you want to remove and replace it often.  Certain specialty Mercury bodies only accept split rings.
5. Optical Viewfinder

Mercury comes with a very basic sportfinder for composition. By replacing the front reticule, this can be adapted to many different lenses and formats. It does, however, have some drawbacks: it can't cover wide angle lenses, it is only moderately accurate, is easy to break or lose, and can get awkwardly large when used for wide angle lenses (or awkwardly small when using telephoto lenses). Especially for non-normal lenses, then, we highly recommend that you purchase an accessory viewfinder. These have been made for countless cameras and lenses by countless companies, so just search online for a vintage one.
If you wish to use a lens wider than 65mm on 6×9 or wider than 105mm on 4×5, you must utilize a third party optical viewfinder.
Most optical viewfinders are designed for one focal length. Some have frame guides for multiple focal lengths (though optics only for the widest of them). Some, like the Kodak pictured above, have a slick internal mask that can be engaged with a flick of a finger, changing the framing instantly. Others, like the Chinese model in the center of my photo, have complex frame guides that dynamically grow or shrink when you turn the "zoom" ring. The Russian Kiev viewfinder, modeled after an original Zeiss model, contains a turret with several different viewing lenses, each matched to a particular focal length. Leica made an optically zooming viewfinder that accomplished something similar. Whether you want to deal with the bulk and complexity of a multi- or universal-viewfinder depends on how many lenses you wish to shoot with, and how often. The most compact designs (and best optics) are usually those designed for a single focal length. Very long or very wide lenses will require this anyway.
There are a plethora of vintage viewfinders out there, as well as some inexpensive ones custom made by folks and sold online. Voitlander also currently makes a full line of very nice viewfinders, but they are very expensive.
Most (but not all) accessory viewfinders were designed for 35mm camera use. Accordingly, you will need to do the conversion between 135 format and whatever format you're shooting in order to know which viewfinder is appropriate for your lens and format combo.  You can use the following chart, cross-referencing the 35mm column with the focal length and format you wish to shoot:

Another feature to be aware of is parallax adjustment. Viewfinders tend to be very accurate at larger distances, but lose their accuracy when composing for a very close subject (under six feet or so for many viewfinders). Some allow you to dial in an actual focal distance for maximum accuracy. These are typicallyt he best viewfinders out there. Others have very crude adjustments you can make for very close subjects. For instance, the Russian turret viewfinder allow you to turn the turret slightly, not quite changing lenses, but altering the vertical placement of the image for very close shots. This solution is less than ideal, but it is better than nothing! Parallax decreases with focal length, so wide angle viewfinders rarely contain any parallax adjustment.
Moderately wide optical viewfinders tend to be fairly common on Ebay.  Normal focal range viewfinders, however, are relatively rare.  Mercury Works makes several non-optical viewfinders for this range (we have numbers 1-3 on the chart above).  A big advantage of Mercury viewfinders, besides their light weight, is their masking feature.  Each viewfinder has a removable front cap that can hold a removable mask in place.  Downloadable, printable masks can be found here.
6. Quick Release Plate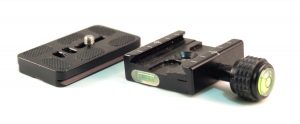 A Quick Release (or "QR") plate system is extremely handy. You screw the plate itself into the Mercury tripod socket (as well as any other cameras you wish to use), and then a QR base onto each tripod you plan to use. This makes a handy stand so your Mercury and sit upright on flat surfaces, helps you to balance your Mercury on your tripod (depending on what config you are using), and greatly reduces wear and tear on your Mercury by keeping one device attached to the bottom at all times. It also makes it very fast to switch cameras on a given tripod, or switch to different tripods.
Generic QR plates are made by many companies and can be found online very inexpensively. Shorter plates are recommended for small Mercury configs, and longer plates for particularly front-heavy configs (such as very long or heavy lenses, the RB67 config, etc.).
7. Light Meter
The Sunny 16 rules works for me 90% of the time, but if you aren't confident guessing light readings or are frequently in more difficult lighting situations, you should invest in a good light meter. Anything by Minolta, Gossen, or Sekonic is highly recommended: analog or digital. Just be aware that some older electronic light meters require mercury batteries (no relation to Mercury Camera!
). These are toxic, illegal, and no longer made. They can be replaced by Wain Cells, less accurate alkaline versions, or adapters designed to take Silver Oxide replacements (the recommended solution).
For a bulletproof, time-tested gem that is also very compact, you might want to try the Sekonic Studio Deluxe L-398. Professional cinematographers have used this meter since the 1960s, but it works equally well for still photography. The current "A" model changed the underlying sensor material. Both the original and "A" models are highly recommended. The big advantage of this analog meter over a digital one is that it never requires batteries and is nearly indestructible. It will also last a lot longer!
For an ultra-compact digital meter, the Sekonic L-308 is recommended. There's the original, the "B" model, and the current "S" model. The "B" is supposedly more accurate than the original. The "S" model revamped the digital interface, making it slightly more intuitive and informative.
One of the most popular meters in photographic history is the Gossen Luna Pro. It is extremely accurate, has a great range, and a fantastic interface. It was released in the 1970s, and many are available for dirt cheap used. The catch is that they were originally designed for mercury (the metal chemistry, not this camera system!) batteries. Luckily, Gossen is still in business, and sells a "Gossen Battery Adapter" (check online photography stores like B&H) for a very reasonable price. This adapter takes current silver-oxide batteries and converts their voltage slightly to the proper value for this meter to be accurate. If you can find a very cheap meter online, this is a highly recommended solution.
There are also vintage light meters that mount directly to the camera, on a cold shoe. If you can get one that works properly and is accurate, this can be quite handy!
8. Lens Spanner Wrench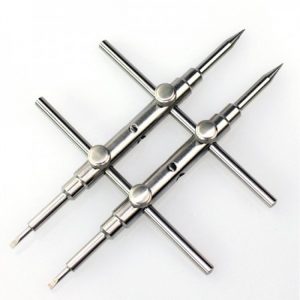 A lens spanner wrench is a tool that consists of two shafts with sharpened ends (either slotted, pointed, or often with both options, one on either end of each shaft). The shafts travel along one or two perpendicular bars and can be tightened at any position. They are specifically designed to loosen and tighten circular components of lenses.
To remove a vintage view lens from a shutter board, you are supposed to use a spanner wrench, positioning your two slotted ends in the notches in the lens' retaining ring. To mount your lens on a Mercury shutter plate, reverse the process, tightening down the retaining ring. It is possible to do this without a spanner wrench, but it is difficult to get your ring tight enough to not slowly loosen over time.
A spanner wrench can also be used to tighten or loosen stubborn Mercury parts such as shutter plates and lens barrels.
These are easy to find on Ebay.  Just search for "lens spanner wrench."  Even very inexpensive ones work well.  If you are going to experiment with more than one lens on Mercury, a spanner wrench is particularly recommended—it will save you a lot of headache!